---
1 mm trailing steering blocks for 12x6 bearings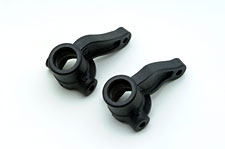 Part#
ZS-415SH-1
---
Yokomo Staratus C-Type
The newest Stratus is a combination of the A and B type Part#
ZC-YSBC
---

Yokomo setting gauge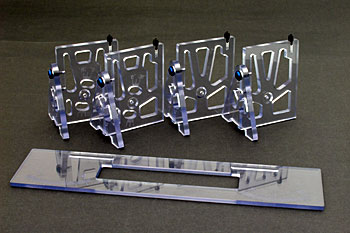 You can measure camber, caster and toe quickly and accurately Part #:
YT-SG
---
New steering blocks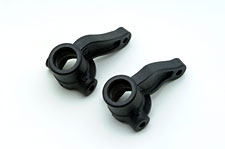 1 mm trailing steering blocks for smoother turn in when using 3 deg caster blocks Part#:
ZS-415S-1
---
New spur gears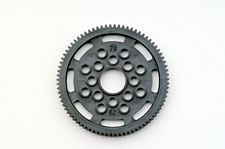 precision 48 pitch 79t, 80t and 83t Part#:
ZS-PS79, ZS-PS80, ZS-PS83

---
New aluminium parts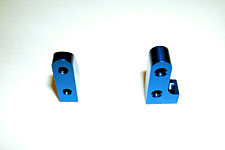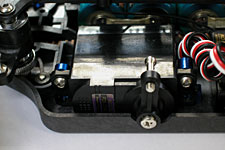 Blue low cg servo mount (lowers the servo) Part#:
ZS-203TA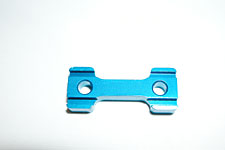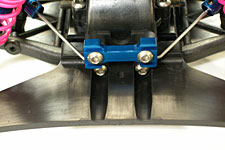 Front roll bar holder (for roll bar type ZS-412F and 412FW) Part#:
ZS-412FH
---
New inserts and wheels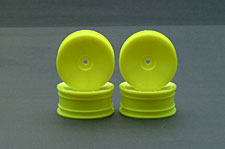 Super precision disc wheels Part#:
TW-1012Y2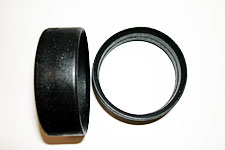 Thin medium insert Part#:
ZR-039m
Thin firm insert Part#:
ZR-039f
---
New Yokomo Sanyo HV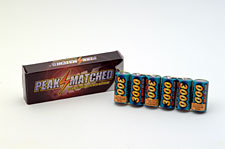 Peak matched plus 11 Part#:
YB-P11
Peak matched plus 12 (for the serious racer) Part#:
YB-P12
---
New front one way unit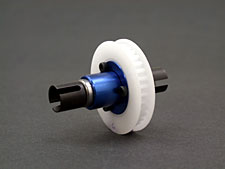 Front one way unit with bigger bearings for better durability.
---
3 and 7 degree molded caster blocks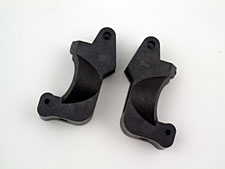 3 degree caster blocks will make the car react quicker on turn-in.
7 degree for milder turn-in. (standard=5deg)
Part#: ZM-4133 (3deg)
ZM-4137 (7deg)
---
New setup wheels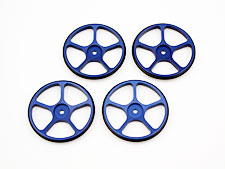 Blue, five spoke, aluminum setup wheels.
Part#: YT-RSWRB
---
New center shaft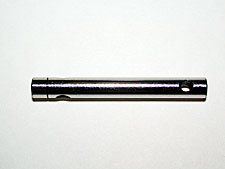 New extremely light and durable chrome molybden center shaft.
Part#: ZS-644T
---
New springs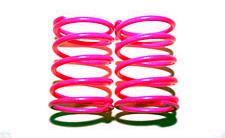 New pink springs available. Between yellow and green in stiffness.
Part#: YS-14575
---
Bigger Shock Bodies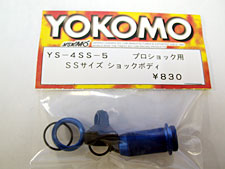 Large capacity shock bodies now available. 3mm longer than the standard shock bodies.
Part#: YS-4SS-5
---
Direct Drive Gear Adapter (SP)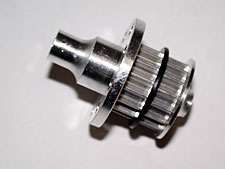 The lightweight (aluminum) direct drive gear adapter for the MR4TC Special is now available.
Part#: ZS-630ASP
---
New MR4TC Custom kit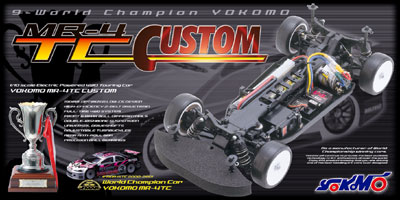 New basic MR4TC kit. Can be upgraded with the following conversion kits:

Stage 1 includes:
front one-way
threaded aluminum shocks
new low friction belts
rear anti roll bar

There are two different versions of the stage 2 conversion available.
World Champion conversion kit includes parts to make the car to the same specification as the 2000-2001 Worlds winning car.

graphite main chassis
worlds upper deck
worlds front & rear suspension arms
aluminum driveshafts
titanium turnbuckles
front antiroll bar
clamp type wheel hub
center one way & front drive pulley




Special conversion kit includes parts to make the car the latest specification. Narrow chassis for micro electric equipment.

Narrow graphite main chassis
graphite worlds upper deck
blue aluminum motor & battery mount
worlds front & rear suspension arms
aluminum driveshafts
titanium turnbuckles
front antiroll bar
clamp type wheel hub

center one way & front drive pulley
Part #:

MRTC-OC MR4TC Custom
TC-C1V Conversion kit stage 1
TC-C2W Conversion stage 2, Worlds type
TC-C2S Conversion kit stage 2, Special type
---
MR4TC Special transponder mount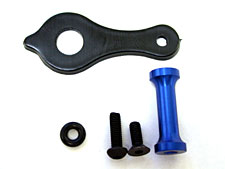 Part#: ZS-TPH

---
Lightweight wheel nuts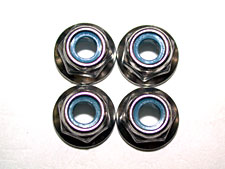 New lightweight aluminum 4mm wheel nuts.
Part#: ZC-N4AF
---
Ride height & droop gauge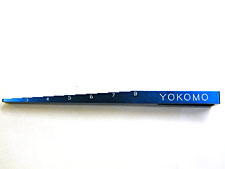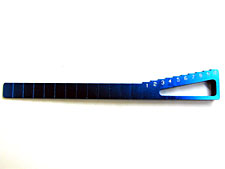 2-way ride height/droop gauge.
Part#: YT-HDG
---
New front & rear belts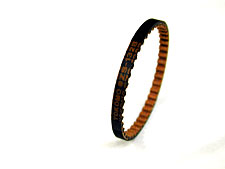 New narrow, low friction belts for the MR4TC. Inclused in MR4TC Special kit.
Part#: ZS-132B (rear), ZS-537B (front)

---
MR-4TC Special Car kit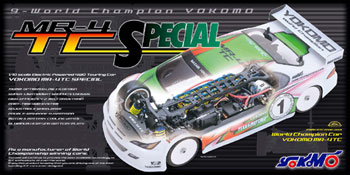 Soon available: MR-4TC special complete car kit. Includes:
new narrow chassis
center and front one-way
front & rear anti roll bars
titanium turnbuckles
Part#: MRTC-SP
---
MR-4TC Special conversion kit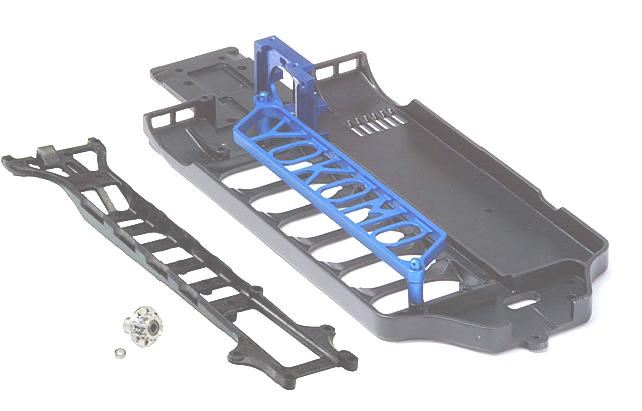 Click here for more information and pictures.
Also check: http://www.yokomo.co.jp/yokomoweb/NEW/new.htm
Part#: ZS-SPC
---
New rear arms for the MR-4TC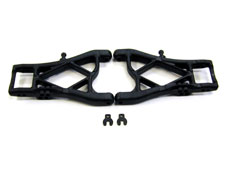 These new rear suspension arms allows adjustments to the wheelbase.
Part#: ZS-008RW
---
New wheels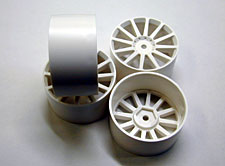 12 spoke wheels for foam tires, now available.
Part#: TW-0713-2
---
New tires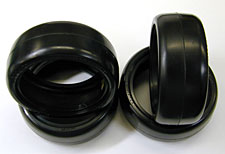 Now the new 139 series of tires are also available in the M compound.
Part#: ZR-139M2
---
New Yokomo Apparel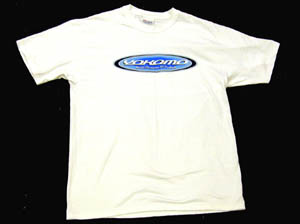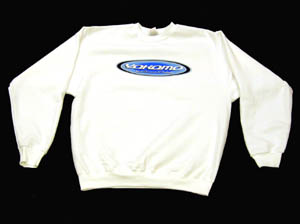 Stylish and designed to make you look fashionable at the track, Yokomo
t-shirts and sweatshirts are now available in a variety of popular sizes.
(see YokomoUSA for part#:)
---
New tires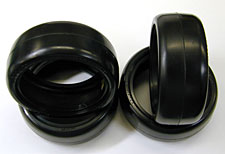 Yokomo now have new 139G and 139S tires available.
Part#: ZR-139G2 (4 tires)
Part#: ZR-139S2 (4tires)
---
New type front roll bar kit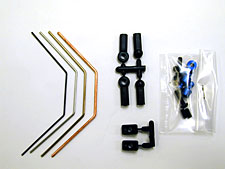 The new type front roll bar kit is to be used with the arms with a molded in ball stud (ZS-008FW).
This type of roll bar is included with the MR4TCW kit.
Part#: ZS-412FW
---
Clamp-type aluminum wheel hubs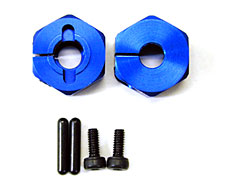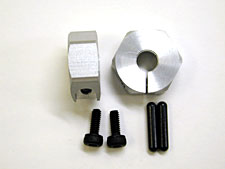 Milled out of a lightweight aluminum, these hubs use a clamp-type mechanism.
A screw is used to lock the hubs to the axles.
Part#: ZE-011C
---
GT-4 pro shock springs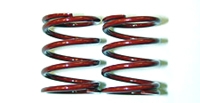 Optional tuning springs for your GT-4 & MR4TC. Available in eight different rates.
Listed in order of soft to hard:
YS-1560 Dark Green
YS-1660 Red
YS-1655 Yellow
YS-1650 Green
YS-1760 Silver
YS-1755 Grey
YS-1750 Brown
---
New front roll bar kit now availible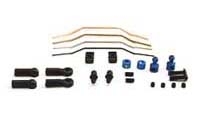 It's finally here! The front roll bar kit we have all been waiting for is availible now.
The front sway-bar kit includes four sway-bars and all the additional hardware required for installation.
(Seen here on Hara's Worlds winning car, 1.2mm)
Part#: ZS-412F
---
New composite front arms for the MR-4TC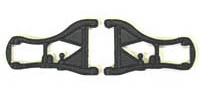 These new front arms come with a sway-bar ball stud molded into the arm.
These arms are not compatible with the ZS-412F sway-bar kit.
Part#: ZS-008FW
---
World's spec upper deck for the MR-4TC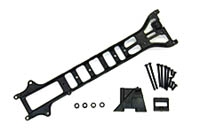 The milled upper deck included in the World's conversion kit is now separately available.
Includes all the necessary hardware required for installation.
Part#: ZS-002TG3
---
(pdf-file)
---